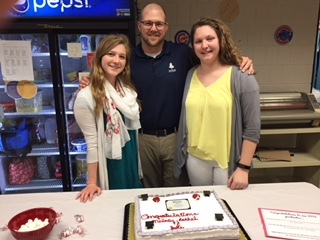 OMS Celebrates ISU Graduates
Heather Schwarting
Thursday, May 03, 2018
On Thursday, May 3rd, the Olympia Middle School staff celebrated its May 2018 Illinois State University graduates.
Miss Melody Haigh has been a student teacher in the sixth grade this year. She has taught Social Studies, Reading, and Language Arts. This summer, Miss Haigh will relocate to Phoenix, Arizona to teach seventh grade Reading.
Miss Rachael McMillan completed a teaching intern position in sixth grade Reading and Language Arts at OMS at the end of the 2016-2017 school year. For the current school year, she returned to OMS to student teach Reading and Language Arts in seventh grade. Next year, Miss McMillan will teach sixth grade Social Studies in Jacksonville, IL.
Mr. Jake Steve is a sixth grade Science and Social Studies teacher and coaches baseball and wrestling. Over the last two years, he has also completed the necessary coursework to earn his Masters in Science in Teaching and Learning.
Congratulations to these three for demonstrating the responsibility and perseverance necessary to earn their degrees!